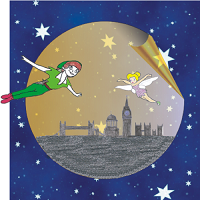 WBLOS put on its 10th pantomime, Peter Pan, at the Memorial Hall from 24 – 26 January 2014. This page contains the NODA report, followed by the cast list, and links to the Facebook page that contains photos etc.
NODA Report
Wootton Bassett Light Operatic Society
Wootton Bassett Memorial Hall, Sunday 26th January 2014
Musical Director: Pip Honour

Report by Emily Savage (Aged 6 and a bit)
I loved Peter Pan, it was really good fun! My favourite was Peter and Tiger Lily was really funny. I didn't mind when the Pirates got me wet with the water pistols, cos I know they didn't mean it. The crocodile was a bit scary, but I wasn't scared by Captain Hook cos I know he was only pretending to be mean, and we met him afterwards when he'd taken his wig off. The songs were funny, and I especially liked singing along to the Muppets song.
Report by Graeme Savage (aged 37 and a half…)
After last year's successful production of Alice in Pantoland, and a quality production of Oliver in the Spring, hopes were high for this year's offering from WBLOS, and it is safe to say that Peter Pan did not disappoint!
Peter Pan is a difficult piece to turn into a traditional panto, with the original story's very dark moments, and a long introduction to the characters in the nursery. Director Marion Aspell tackled this by adding a prologue set in Neverland, with some clever shadow work and an impressive crocodile puppet showing us the backstory of Hook and Pan's rivalry. We were then introduced to Stuart Dark's hilarious Tiger Lily, a novel and successful way of incorporating a 'dame' character into this non-trad panto. Once we got to the Darling family's nursery, the audience were ready for a breather, and to take in the story of the Darling children and Peter's introduction, rather than fidgeting and waiting for the action to start.
The performances were very good across the board, with all the actors, including the children speaking very clearly and putting a lot of energy into the musical numbers. Harriet Aspell was a perfect pantomime principal boy as Peter, and along with a confident performance from Georgina Gerring's Wendy, led the younger members of the cast with maturity. Mike Davies was superb as Captain Hook, finding the fine balance between being scary enough for the children (despite what Emily might say!) to boo and not being so over the top as to be detracting from the story. The aforementioned Stuart Dark was given great support from Smee and Starkey in keeping the audience involved, and the whole company looked to be having great fun throughout the show, despite it being the final performance of what had clearly been a very busy week.
As ever, the company made great use of what is a very small stage, with some very well made sets and furniture, and some effectively simple techniques to give the impression of the characters flying and levitating – much more effective than some of the companies who spend thousands on full flying rigs! Likewise, the costumes were very well produced and lighting and sound complimented all that was happening onstage with subtlety. Musically, this company always comes up with interesting choices of songs outside of the usual pantomime canon, and gave everything in their delivery. Amongst the pantomania, a real musical highlight was Albertine Davies' rendition of Hushabye Mountain, a beautiful moment of calm before the storyline really took off.
It is lovely to see a company that has worked so hard to improve over the last few years being able to sustain the standards which they have reached. This was, very simply, a really fun and entertaining show – the script staying just the right side of 'cheeky', leaving the audience to double the entendres for themselves, rather than hammering the punchlines home and heading into the adult territory that can alienate some audiences expecting a more family show. If there is one area that WBLOS could look to improving, it would be in giving the musical numbers a bit more volume – they're well performed, but could just do with pushing a little more to really give them the 'wow' factor, and would also give the cast a little more to work with. Likewise, a little more use of underscoring might add a touch more sheen to the overall production, and tightening up a little hesitation in some of the scene changes and audience interaction, just to ensure that the overall pace of the show doesn't slip. But these are really nit-picking suggestions, all of which would add to an already accomplished and entertaining production.
Thank you to all involved for a great evening out, and to your front of house team for their warm welcome. We've been singing Life's A Happy Song ever since…!
The cast list was as follows:
| | |
| --- | --- |
| Peter Pan | Harriet Aspell |
| Captain Hook | Mike Davies |
| Wendy Darling | Georgia Gerring |
| John Darling | Kieran Jefferies |
| Michael Darling | Linus Davies |
| Mr Darling | Mark Richardson |
| Mrs Darling | Albertine Davies |
| Smee | Linda Worth (Sat Mat: Kate Davidson) |
| Starkey | Margaret Oakley |
| Tiger Lily | Stuart Dark |
| Myrtle the Mermaid | Kathy Sterry |
| Nana | Helen Good |
| Tinkerbell | Deanna Aspell |
Well done to all! For photos and more, see our Facebook page.